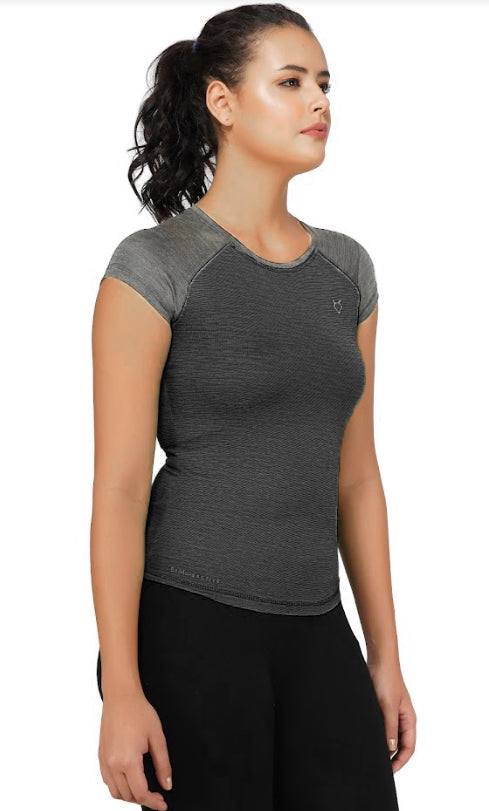 Flexible Top for Woman | Movement assist | Melange | LDTCK203
---
⭐ Free 3-Pack No Show Socks with Purchase of 1000/- or above
⭐ Free Gym Bag with the Purchase of 1500/- and above
This top is made of polyester which provide excellent durability, flexibility and comfort. This top is ideal for gym or workout sessions. The fabric allows your body movement while providing support and comfort. This top comes in different colors like black, white, blue, red, green etc.. You can choose according to your preference.

Product Features: -

- Designed to for your curvy shape and show off your athletic figure.

- Comfortable and easy to move around

- Lightweight and provides good ventilation

- Ideal for gym or workout sessions

- Fabric is durable and long lasting

- Easy to wash and maintain

Pretty but robust - The lightweight top has strong interlock seams that prevent chafing and irritation, provide optimal comfort, and avoid the possibility of thread ripping out.

This sportswear was especially created for dancing, working out, doing yoga, and even going on dates. Don't have to spend a lot to obtain a quality experience.

 
Return/Refund Only Applicable for merchandise if the item is defective, damaged or if you receive the wrong item.

Refunds not applicable for Innerwear Items, Socks, Tights, Sandos, Sports Bra. For other items refer to the link below

Refund policy- (bmactivegear.com)
We use the highest quality technical fabrics available on the market and are passionate about creating timeless, lasting items. To keep your activewear in great shape, wash it on cold and gentle cycle, do not tumble dry and hang dry immediately after washing. Do not bleach.
This product has no reviews yet.